Eugene-Based Coatings Company Installs Aquip System to Meet Benchmarks for Zinc
The Company: Forrest Technical Coatings – Eugene, OR
Established in 1973 and headquartered in beautiful Eugene, Oregon Forrest Technical Coatings operates several service centers in the Pacific Northwest. Forrest Technical Coatings manufactures and blends a variety of specialty paints and coatings for the fast-growing industrial equipment and product segments. They have both national and international reach with their specialty products.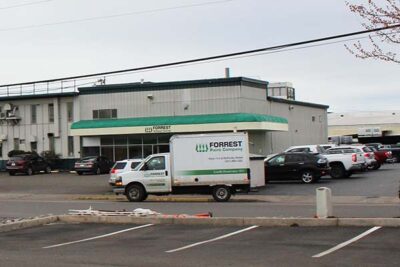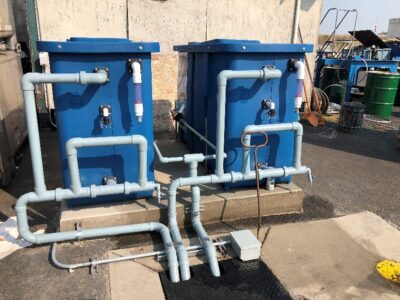 The Issue: Heavy Metals
Discharge monitoring reports (DMR) for the heavy metal, zinc, triggered the Tier II corrective action in their Oregon 1200-Z industrial stormwater permit. As required by this permit, the company took decisive action to address this issue which is a permit requirement by the City of Eugene/Dept. of Environmental Quality.
Members of Forrest Technical Coatings' staff demonstrated very early on their commitment to reducing environmental impact, liability, and an eagerness to quickly meet permit compliance. Partnering with StormwateRx, Forrest Technical Coatings sought a cost-effective treatment strategy that aligned with their corporate environmental stewardship initiatives.
The Solution: Aquip Enhanced Media Filtration
Forrest Technical Coatings learned about StormwateRx LLC and their stormwater treatment systems during a call to the facility in 2019. In late 2019, StormwateRx engaged Forrest Technical Coatings further and explored several treatment options. The final recommendation was to install Two (2) Aquip 10 PBE treatment systems, a new sump pump and pump vault. See below.
The Result: Zinc Below Benchmarks
Installed in Sept 2020 and put online in Oct. 2020, Forrest is excited and anticipating full 1200-Z stormwater permit compliance. These results will demonstrate the Aquip efficacy for removing heavy metals and other state-wide water quality parameters below the benchmark. This is what has set StormwateRx apart from other stormwater treatment equipment suppliers.