Newterra Toilet to Tap Demonstration Plant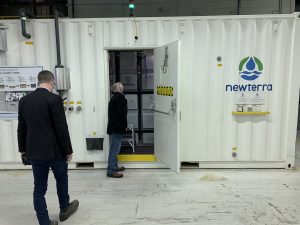 Newterra has operated a Toilet to Tap sewage treatment system in their Brockville facility for the past 3 years. Sewage from the facility was treated with a state-of-the-art Clear3 MBR (membrane bioreactor), and then further treated with UV and then through a reverse osmosis (RO) unit manufactured by EPRO (a Newterra brand).
The reality is that all water is recycled water, our system just speeds up the process and actually produces much cleaner water. Some major projects are in the works in North America, and of course this process has been used for many years in other parts of the world.
Check out this article by Bloomberg discussing the subject and progress being made on the regulatory side of the equation.
Cheers!