A Virtual Expo by Newterra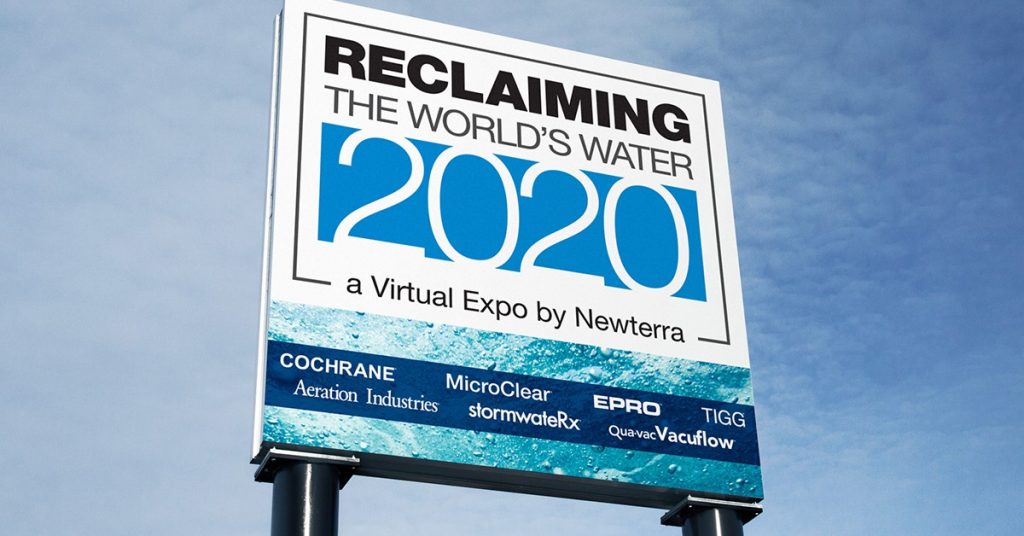 The Word is Out!
Reclaiming The World's Water 2020 (A Virtual Expo by Newterra) August 18 & 19, 2020.
In this midst of this year's unfortunate trade show and event cancellations, were are pleased to announce that we will be hosting a 2-day Virtual Expo.
Live from our various locations across North America, we invite you to learn more about our unique solution/product offerings and recent innovations, watch special guest speakers, and interact with our staff of water experts during via live chat. Something for everyone!
Reclaiming the World's Water continues to be the focus of our dedicated team. As a global water treatment solutions provider, Newterra has a strategic focus on incorporating specific companies and technologies that are proven leaders in their fields. Mark your calendar – you don't want to miss this!
We'll be hosting one Round Table discussion each day in addition to many Presentations in the Auditorium. You can also catch us in any of the 8 Booths where you can Live Chat with our Technical Team as well as attend presentations, pick up literature or watch videos.
Here is a sneak peek at a few of our Keynote Speakers for the Round Tables:
Debra Coy with XPV Water Partners with her view on the Water Market
Pete Hanrahan with Hanrahan Environmental with an Industrial Stormwater Market Update
Seth Cutler with Frost & Sullivan on Emerging Contaminants
Dan McCarthy (formerly Black & Veatch now Dan McCarthy consulting) with his view on the Water Market
Matt Peeler with Live Oak Bank on USDA Funding Opportunities
Dr. Albert (Bob) Rubin on Small/Rural Community Water
On the morning of Day 1 join us for some exciting New Product Launches!
Other presentations in the Auditorium include topics such as:
Reclaiming Lakes, Rivers and Streams
Emerging Contaminants – An overview
Biological Nutrient Removal Process; AKA BNR Process
Iron Treatment Before Carbon for Tough Groundwater Applications
Case Study – Financing/Engineering/Supply for Decentralized Water
Deaerators 201 – Get the gas out!
Challenges in Treatment on a Construction Dewatering Site
Operating Modular MBR's at Low Flows Rates as a % of Design
Treatment of PAH's to Low Levels at Superfund Site
Introduction to Industrial Stormwater Permits and Compliance
Universal Remedial Solution to PFAS During a Period of Developing Technologies
Booth presentations include topics such as:
What is TIGG?
Engineering Principles for Stormwater Design
Oxidation Ditch/Retrofit
New approaches to Modular MBR design
Case Study, Long Island 1,4 Dioxane
Aquaculture Water Treatment
It's Simple, Right? Stormwater Chemistry for IGP Compliance
Frontline Drain Inlet Filter Inserts
Newterra's Rental Fleet
Newterra Parts Store
Clara Filter for High Rate Sediment Removal for Stormwater
Maintenance Minutes: The Importance of Maintenance for BMP Success
Uni-Pac Standard Packaged Deaerators for Light Industry, Government, Universities and Commercial Developments.
In addition to the webinars and presentations, throughout both days our 8 booths will be open for Live Chat.
Municipal and Industrial Wastewater (Aeration Industries)
Groundwater and Soil Remediation (Newterra Engineered Systems)
Modular, Decentralized Sewage, Wastewater and Potable Water (Newterra Engineered Systems)
Industrial Process Water & Deaerators (Cochrane)
Industrial Stormwater Treatment (StormwateRx)
Purifying Groundwater & Air (TIGG)
Commercial & Light Industrial Reverse Osmosis (EPRO)
Specialty Parts, Media, Service and Telemetry